100Fires Booktabling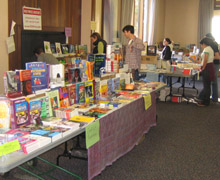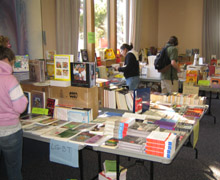 Education Summit 2006 at Humboldt State University in Arcata, CA, February 2006: The largest conference bookstore 100fires.com has ever set up - 120 linear feet of tables. May we provide a comprehensive bookstore for YOUR upcoming event?

Not only does 100Fires.com sell over the web, but we'll bring our extraordinary bookstore directly to YOUR event (if we receive enough advance notice).

And we'll even pay back a percentage of our sales as a thank-you to the event's organizers. Everyone benefits: your community gets a roving bookstore in town for a day or a weekend, the best independent books in the land find new homes everywhere, and the staff of 100Fires makes enough money to stay fed, housed, and prepared for further rabble-rousing!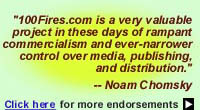 100Fires' staff lives in Arcata, CA (just south of the Oregon border along the coast). Our normal range of travel for the roving bookstore is California's San Francisco Bay Area to the south, southwest Oregon to the north, and eastern California to the east. We rarely travel further, but can be coaxed into doing so for very special or very large events.
To request a 100Fires booktable at YOUR event, please CLICK HERE.
Here's our booktabling schedule in the coming months:
For more info on all events listed below, please contact Paul Cienfuegos at 100fires Books: paul@100fires.com.

Thursday, January 18 at 730pm:
Author Event with Derrick Jensen at 100fires Home Bookstore in Manila, CA.
Details about his new book.

Thursday, February 15 at 730pm:
Author Event with Christina Accomando at 100fires Home Bookstore in Manila, CA.
Details about her book.

March 2 through 4:
Education Encounter (conference) at Humboldt State U in Arcata, CA. (This is the annual Education Summit, merged with the annual Cultural Diversity Conference.)
Details about this event

July 27 through 29:
Annual SolWest Renewable Energy Fair in John Day, OR. Details about this event.